How to Play Dance Contest on Club Penguin!
You can play solo or multi-player and get points by showing your rhythm and how you keep up with the game. You start the game by clicking on the clipboard on the table on the right side of the main floor of the night club.
DJ Cadence will appear and give you a tutorial for the game.
Non-Members can play only from 3 Different songs which are: Epic Win, The Generic Way and Penguin Band Boogie, but Members can play from all 6 different songs which are: Epic Win, The Generic Way and Penguin Band Boogie, Patrick's Jig, Go West, and Lets Bounce!
If you are a member you have the option to play in multi-player mode!
How To Play:
When you choose a song and level and you enter the game, you must press the arrows on your screen when they reach the top of the screen, the more you press accurately, the more points you score! Good luck!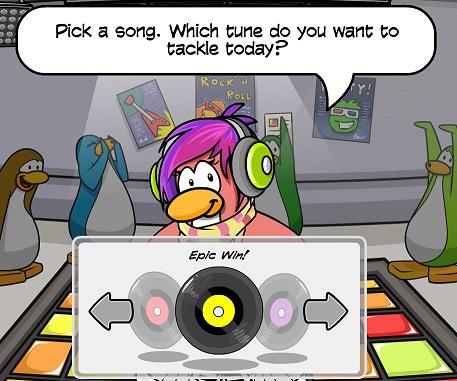 Single Mode: Penguins who want to play just waddle over to the Night Club and Earn Some Coins! Just listen to the beat and press the same Arrow Key when it lines up on the Screen.
Multiplayer Mode: For Members, there is a Multiplayer mode which Members can play only. You play with other penguins and at the end you see who got the best moves.
If the game is lagging, press the + or = button on your keyboard. It makes it lower quality but it speeds it up. If you have a purple puffle, you can bring it along with you to dance, you get more coins by doing this!